Below is list of devices that support eSIMS
Or check out this YouTube short to see if your Apple device is eSIM compatible.
Apple
Phones
iPhone 15 Pro Max
iPhone 15 Pro
iPhone 15
Phone 14 Pro Max
iPhone 14 Pro
iPhone 14 Plus
iPhone 14
iPhone 13 Pro Max
iPhone 13 Pro
iPhone 13 mini
iPhone 13
iPhone 12 Pro Max
iPhone 12 Pro
iPhone 12 mini
iPhone 12
iPhone 11 Pro Max
iPhone 11 Pro
iPhone 11
iPhone XS
iPhone XS Max
iPhone XR
iPhone SE 3 (2022)
iPhone SE 2 (2020)
iPads
iPad Pro 12.9‑inch (3rd generation or later)
iPad Pro 11‑inch (1st generation or later)
iPad Air (3rd generation or later)
iPad (7th generation or later)
iPad mini (5th generation or later)
Android
On your android device:
Open Settings.
Select Connections.
Click on SIM card manager.
Look for Add eSIM. If you see this, your device can use eSIMs.
Alternatively, search for IMEI in settings. If "IMEI information" appears, it's another sign your device supports eSIMs.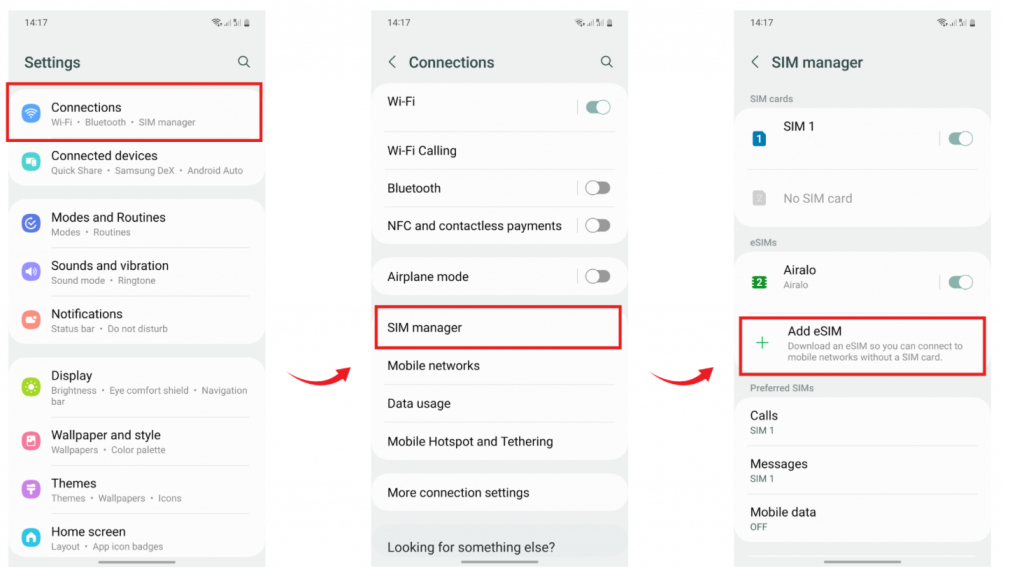 Samsung Devices that support eSIM
Here's the information as a bullet-pointed list:
Galaxy S Series:
Galaxy S23 / S23+ / S23 Ultra
Galaxy S22 / S22+ / S22 Ultra
Galaxy S21 / S21+ / S21 Ultra
Galaxy S20 / S20+ / S20 Ultra
Galaxy Z Series:
Galaxy Z Fold4 / Flip4
Galaxy Z Fold3 / Flip3
Galaxy Z Fold2
Galaxy Z Flip 5G
Galaxy Z Flip
Galaxy Fold
Galaxy Note Series:
Galaxy Note20 / Note20 Ultra
Google devices that support eSIM
Google Pixel 2 (only phones bought with Google Fi service)
Google Pixel 2 XL
Google Pixel 3 (not including phones bought in Australia, Taiwan or Japan. Phones bought with US or Canadian carriers other than Spring and Google Fi don't work with eSIM)
Google Pixel 3 XL
Google Pixel 3a (not including phones bought in Japan or with Verizon service)
Google Pixel 3a XL
Google Pixel 4
Google Pixel 4a
Google Pixel 4 XL
Google Pixel 5
Google Pixel 5a
Google Pixel 6
Google pixel 6a
Google Pixel 6 Pro
Google Pixel 7
Google Pixel 7 Pro
Google Pixel Fold
*Google Pixel 3 devices from Australia, Japan, and Taiwan are not compatible with eSIM.
*Google Pixel 3a from South East Asia is not compatible with eSIM.
Huawei phones with eSIM
Huawei Mate 40 Pro
Huawei P40
Huawei P40 Pro
The Huawei P40 Pro+ and P50 Pro are not compatible with eSIM – sorry!
Oppo phones with eSIM
Oppo Find X3 Pro
Oppo Reno 5A
Oppo Find X5
Oppo Find X5 Pro
The Oppo Find X5 Lite is not compatible.
Other eSIM-compatible devices
Motorola Razr 2019
Motorola Razr 5G
Gemini PDA
Rakuten Mini
Rakuten Big-S
Rakuten Big
Rakuten Hand
Rakuten Hand 5G
Sony Xperia 10 III Lite
Sony Xperia 10 IV
Xperia 1 IV
Surface Pro X
Honor Magic 4 Pro
Fairphone 4
Sharp Aquos Sense6s
Sharp Aquos Wish
Xiaomi 12T Pro
DOOGEE V30