This article will take a deep dive into how to figure out if your AT&T Phone is unlocked and ready to tap into that eSIM goodness.
Here are 3 methods in order of difficulty to see if your AT&T iPhone or Android phone is unlocked / Carrier unlocked.
Method 1 – The human touch
Simply call customer service (dial *611) or visit a physical AT&T store and they will be able to tell you. Duh!
Method 2 – The detective
So if you're like me and are not keen on spending valuable time on the phone messing about with bumbling customer service reps then this method is for you.
iPhone
Full support article can be found on the Apple.com website here
So Go to Settings > (Scroll down to) click General > Click About – You will see a page that looks like the following with lots of information on it. Scroll down 👇👇👇👇 to Carrier Lock.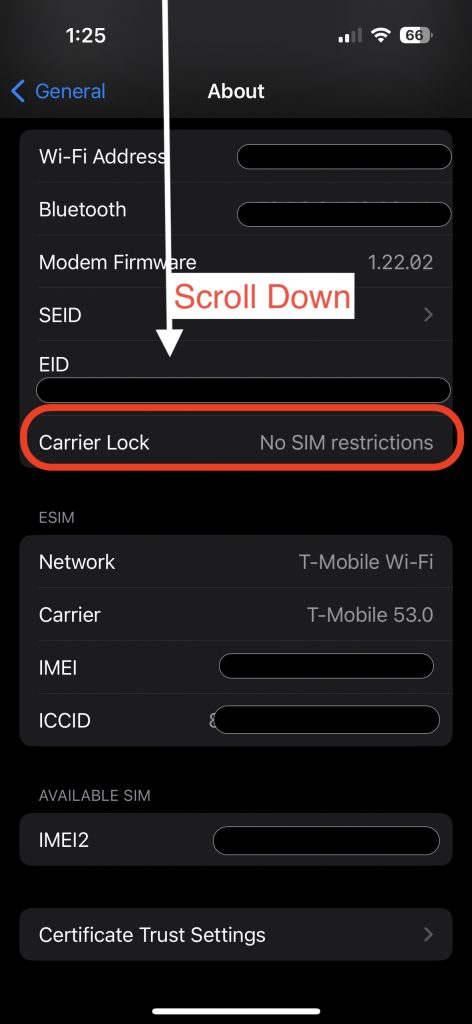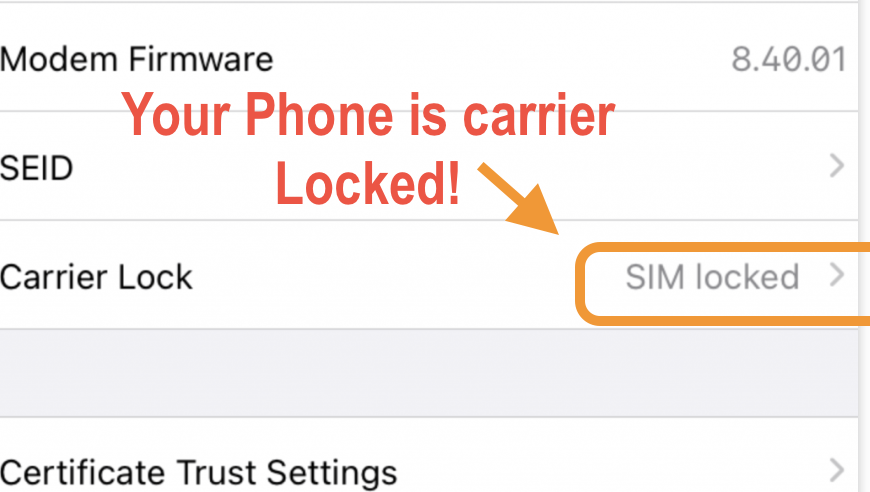 Android
Go to your Android phone Settings and open Network & Internet options
Click on the Plus Sign in next to the Mobile Network in Network and Internet Settings
Next to the Mobile Network option, tap the Plus icon and check if other networks are shown. Some Android phones, you may have to tap on Search Now in Settings > Connections > Mobile Networks > Network Operators.
If your see other networks then your phone is unlocked
If no other network is shown except your current carrier, your phone is probably locked
Method 3 – The Nerd
You can also enter your IMEI number on the AT&T website. Your IMEI number is a type of serial number that uniquely identifies your phone. Simply dial this sequence of numbers on your phone virtual keypad *#06# and your IMEI will magically appear. Write it down 😭😭😭 and enter it at AT&T's website at the link below. On iOS/iPhone your can get the number from the Settings > General > About page. Long press to copy it.
AT&T users click here
AT&T's formal unlocking policy
eSIM Planet's "translation" of AT&Ts unlocking policy
Firstly if appears that all devices bough either in full or being paid off monthly are locked by default. If you paid your device off in full when you bough it, it is eligible to be unlocked BUT you must contact ATT to unlock the phone 😂. This can take up to 48 hours. If you have an ATT prepaid phone you need to have service for at least 6 months.
As usual it's all very confusing and you may want to call AT&T directly! Of course make sure to do this before you leave for your vacation.
From AT&T website
Is an AT&T phone or device and isn't active on another AT&T account.
Was paid in full when you bought it (not an installment plan). You don't have to wait 60 days to unlock it.
Has a paid-off installment plan.

Paid through your monthly bill: Submit your unlock request at the start of your next bill period.
Paid off early: The wireless number assigned to your device must be active for at least 60 days. Wait 48 hours after you make your final payment to submit your unlock request. Learn how pay off your installment plan.

Doesn't have a past-due account balance. Make a payment to bring your account current. It will take 24 hours for your payment to post.
Hasn't been reported as stolen, lost or involved with fraud.
Is an AT&T PREPAID phone that has had paid service for at least six months. Check your device for an unlock app and make sure it has the most recent version of the app. Don't see the app? Submit an unlock request online.
Also Good to know: If you don't have an account with AT&T? You can still unlock an AT&T device as long as it meets all requirements.