This is our current favorite eSIM for European travel and comes in at almost 1/2 the cost of the AirAlo eSIM. It's pretty new (May 2023) so not a lot of folk know about it yet. Here are the specs:
10GB of data
30 days
Just $20 vs $37 for Airalo- almost 1/2 price
Covers most of EU
Does not include Gibraltar, Albania, Montenegro and Andorra.
How to get the eSIM
Download the app for iOS from the App store – click here.
Create an account and a payment method
Choose the Europe eSIM
Install and enjoy
How did it perform – Jun / July 2023 in EU
I was lucky enough to go on a little EU jaunt and we visited Germany, Norway and UK. Here is an article I wrote on using it in Norway. It worked great and I also had an Airalo eSIM installed at the same time and the US Mobile eSIM seemed to perform just as well as the Airalo eSIM at half the price.
Other offerings
They also offer other eSIMs although a little limited as of July 2023 but I am sure they will expand their offerings in the future.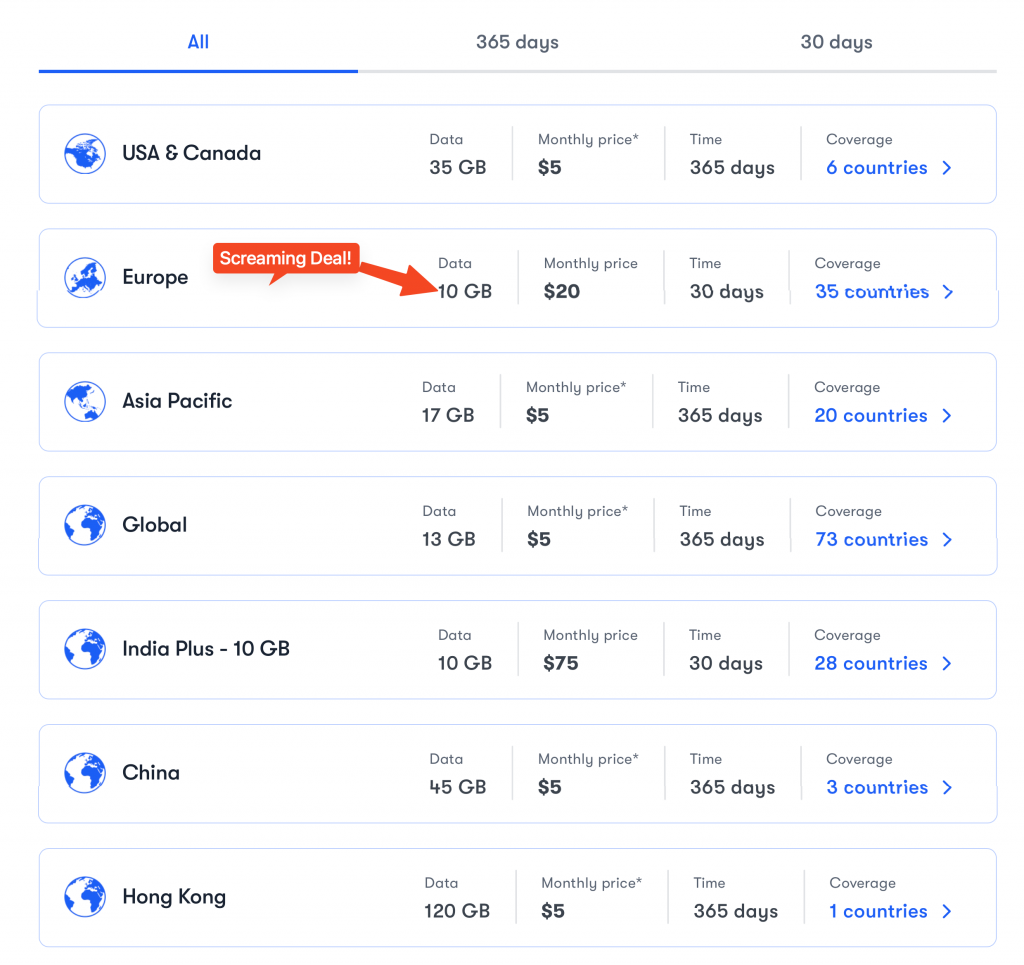 Notes and competitors
Apple Pay is not supported so you'll need to pay via credit card.
If you want to take a deep dive and find out some insider tips and feedback (both good and bad) check out the Reddit US Mobile thread – most for the US service though. You can get the scoop on the AirAlo plan here via this affiliate link. Direct link to EU Airalo plan is here.
One last gotcha is Airalo covers Gibraltar, Albania, Montenegro and Andorra and US Mobile does not. US Mobile includes Vatican City and Airalo does not. They all include the following EU countries:
Austria
Belgium
Bulgaria
Croatia
Cyprus
Czech Republic
Denmark
Estonia
Finland
France
Germany
Greece
Hungary
Iceland
Ireland
Italy
Latvia
Liechtenstein
Lithuania
Luxembourg
Malta
Netherlands
Norway
Poland
Portugal
Romania
Serbia
Slovakia
Slovenia
Spain
Sweden
Switzerland
Turkey
Ukraine
United Kingdom