A prerequisite to eSIM goodness is an unlocked device. No unlocked device – no eSIM and no BIG SAVINGS! This article will take a deep dive into how to figure out if your Verizon Phone is unlocked and ready to tap into that eSIM goodness.
Note: most new phones purchase through Verizon will automatically be unlocked after 60 days of use. See this article from Verizon.
Here are 3 methods in order of difficulty to see if your Verizon iPhone or Android phone is unlocked / Carrier unlocked.
Method 1 – The human touch
A no-brainer really, simply call customer service (dial *611) or visit a Verizon Store and they will be able to tell you. Duh! They may ask for your IMEI number (International Mobile Equipment Identity) but will most probably have it on file.
Method 2 – The detective
So if you're like me and are not keen on spending valuable time on the phone messing about with clueless customer service reps in far off lands then this method is for you.
iPhone
Full support article can be found on the Apple.com website here
So Go to Settings > (Scroll down to) click General > Click About – You will see a page that looks like the following with lots of information on it. Scroll down 👇👇👇👇 to Carrier Lock.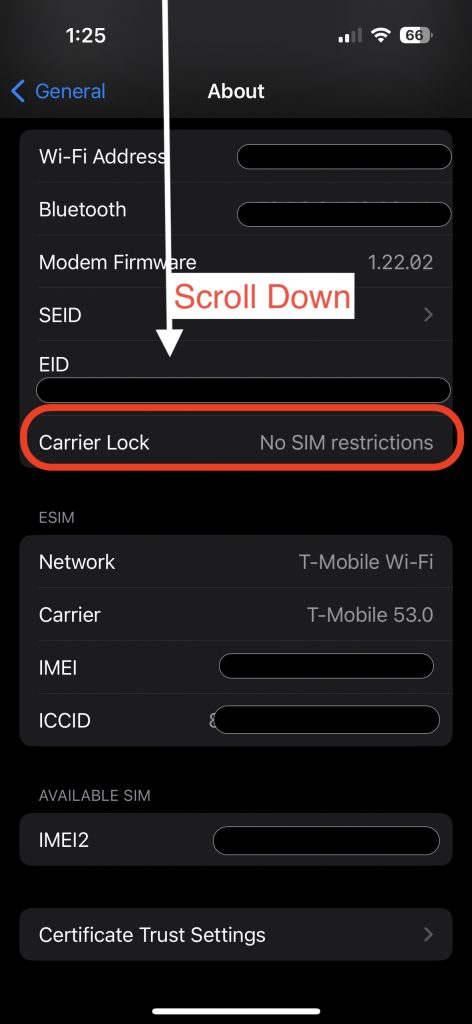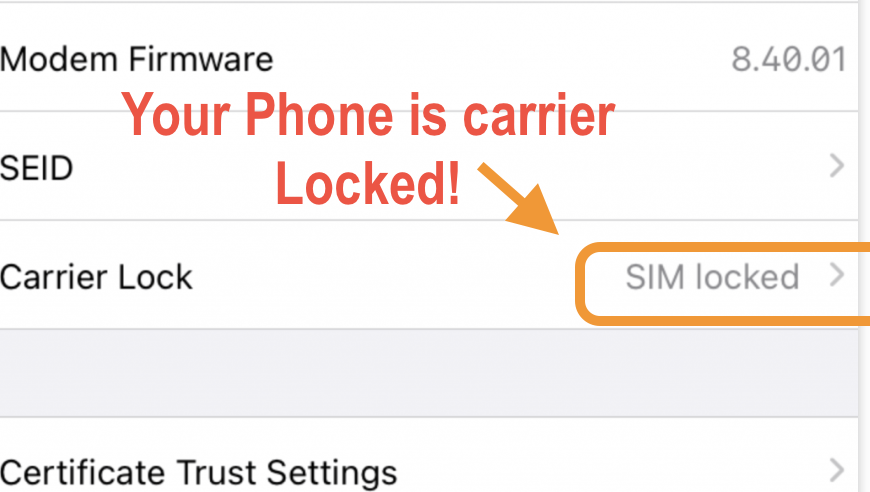 Android
Go to your Android phone Settings and open Network & Internet options
Click on the Plus Sign in next to the Mobile Network in Network and Internet Settings
Next to the Mobile Network option, tap the Plus icon and check if other networks are shown. Some Android phones, you may have to tap on Search Now in Settings > Connections > Mobile Networks > Network Operators.
If your see other networks then your phone is unlocked
If no other network is shown except your current carrier, your phone is probably locked
Method 3 – The Nerd
You can also enter your IMEI number into this handy website at Verizon to see if your phone is unlocked. A super nerdy tip it to dial the short code *#06# on your keypad and your IMEI will magically appear!
What is Verizon's device locking policy?
Beginning on 7/23/2019, devices purchased from Verizon are locked for 60 days from the date of purchase. This policy applies to new and existing customers, postpaid and prepaid plans and customers porting their service to another carrier. Please see examples below for more information:
Device purchased at full retail price or on a device payment agreement – Locked for 60 days from purchase
Device purchased on a device payment agreement and paid off prior to 60 day requirement – Locked for 60 days from purchase
Customers porting out service – Device remains locked until 60-day requirement has been met
Verizon service canceled while device is locked – Device remains locked until 60-day requirement has been met
Prepaid customers – Locked for 60 days from purchase