Verizon just unleash a new Unlimited Ultimate plan with what looks like a good amount of international data included, 10GB per month. If you're a frequent international traveller it may work but for the average person the whopping $90 per month for a single line is crazy – that's over $1000 per year. That's a hell of a lot of eSIM data palns. Sure it includes voice calls so if you're the CEO type then it may be worth it. But for us mere mortals I again suggest a budgets cellphone plan from T-Mobile per pay or Mint and for those trips overseas an eSIM from www.esimplanet.com. Let not forget that most of us have partners and kids that need data too!
Unlimited Ultimate will join the current Unlimited Plus and Unlimited Welcome plans. Unlimited Ultimate offers Verizon's most advanced connectivity experience with 5G Ultra Wideband, our fastest 5G, no matter how much you use, a whopping 60GB of mobile hotspot data, the most offered in the industry, and international connectivity with 10GB per month of international premium data, Global Choice, and unlimited text while abroad and calls within 210+ countries and back to the USA. Plus, it comes with our best device promotions for new and existing customers and 50% off not one but two connected device lines.

https://www.verizon.com/about/news/myplan#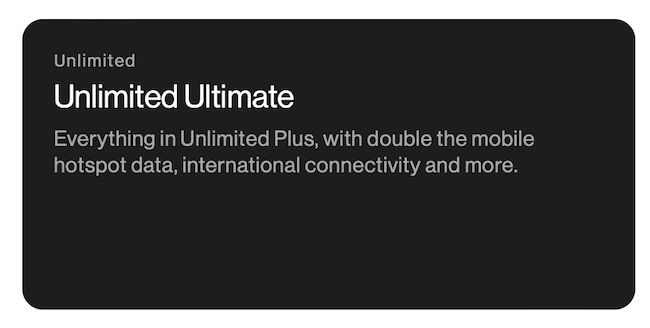 5G Ultra Wideband
Our fastest 5G network experience, up to 10X faster than 4G LTE. No matter how much you use.
Opensignal analysis of Verizon UWB Download Speed
Experience compared to Verizon 4G LTE median Download
Speed Experience based on independent mobile measurements recorded between March 16 – June 13, 2023 © 2023 Opensignal
Inc. Explore our current 5G and 4G LTE coverage maps.
Get access to the fastest speeds we offer with 5G Ultra Wideband. Combined with Verizon's 5G network, you get reliable coast to coast coverage. Download apps, games, entire playlists and TV series in seconds. You'll also get 5G Ultra Wideband mobile hotspot and crystal-clear 4K Ultra High Definition video streaming when activated on a capable device. Plus, access experiences from our exclusive 5G partners: Snapchat, Live Nation, Riot Games and Niantic. For full details, visit the 5G experience page.
5G Ultra Wideband access requires a 5G Ultra Wideband-capable device inside the 5G Ultra Wideband coverage area.
60 GB premium mobile hotspot data
Get high-speed 5G/4G hotspot data that your other devices can use. Your smartphone becomes a Wi-Fi connection for devices like tablets, laptops and more.
After exceeding 60 GB/mo of 5G Ultra Wideband, 5G, or 4G LTE
Mobile Hotspot data, you can still use hotspot at lower speeds of
3 Mbps when on 5G Ultra Wideband and 600 Kbps when on 5G / 4G LTE for the rest of the month. 5G access requires a 5G-capable device.
Up to 50% off 2 watch, tablet, laptop, hotspot or Hum plans
Get up to 50% off two eligible plans for qualifying smartwatch, tablet, hotspot, or Hum in-car Wi-Fi devices. Eligible plans and discounts: 50% off Unlimited and More Unlimited for tablets:
Essential and Plus plans for mobile hotspot devices: Unlimited for HumX; Unlimited + In Car WiFi for Hum+; and Unlimited and Number Share Unlimited for smartwatches. $20 off Premium and Pro plans for mobile hotspot devices.
High-speed international data, talk & text
Unlimited talk, text and data when traveling in 208+ countries and destinations. After 10 GB/mo of high-speed data, get unlimited 2G speeds.
Global Choice
Choose one of 140 countries and get up to 300 minutes to call that country.
Verizon Home internet as low as $25/mo, service availabilitv varies
Fios 300 Mbps for $25/mo. w/ Auto Pay and Mobile + Home Discount (where service is available). 5G Home and LTE Home for $35/mo. w/ Auto Pav (where service is available). When combined with a postpaid mobile unlimited plan that includes 5G Ultra Wideband.
Device savings
Get select phones on us, or save up to $1000 w/ trade-in.
Mexico & Canada talk, text & data
Talk, text and use unlimited data when traveling in Mexico & Canada. After 2 GB/day, get unlimited 3G speeds.
Streaming
Streaming qualitv up to 4K Ultra High Definition when using 5G
Ultra Wideband network on a capable device, or up to 1080p when on Verizon 5G or 4G LTE
Unlimited talk, text & data
Stay in touch and never worrv about overage charges with unlimited talk, text and data on the network more people rely on.
5G and 4G LTE
Get unlimited access to our 5G and 4G LTE networks which provide the high speeds and reliability you've come to expect.
Requires a 5G-capable device inside the 5G coverage area.
International texting
Unlimited texting from the US to over 200 countries and territories worldwide.