US Mobile has eSim plans to rival Airalo?
US Mobile, a T-Mobile / Verizon MVNO announced a new eSIM data plans (May 2023) called Go Global with the ability to purchase stand alone eSIM data plans that you can add to your existing non-US Mobile plans. Now you can just add a data plan like you can with other eSIM only carries like Airalo. You do need to download their app for but according to US Mobile you can do this in 2 minutes!
[update – read our explosive blog post on in the field testing of the new plan in Europe in June – July 2023]
The plans appear to be competitively priced with the European (30 day / 10Gb) plan coming in at $20 vs a similar priced plan at Airalo costing $17 more at $37!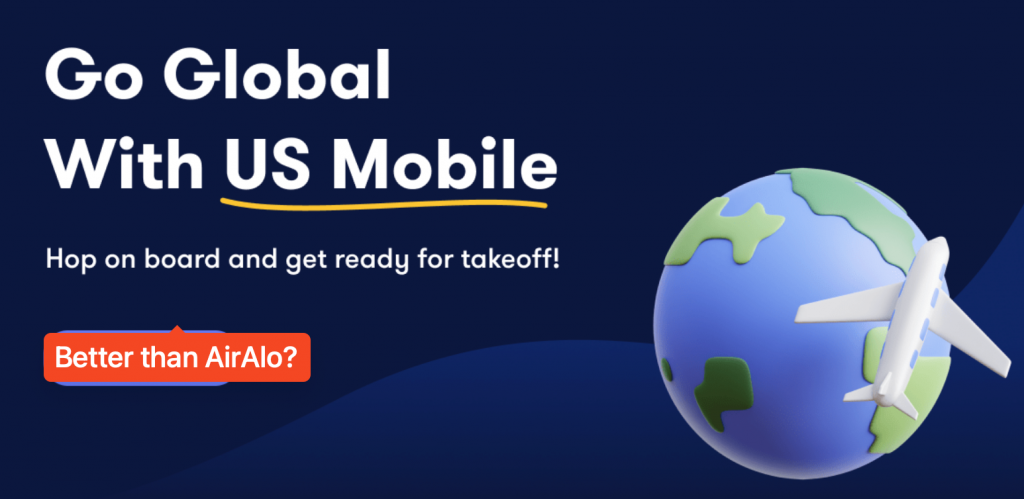 Here is a summary of the offering:
US Mobile has launched a new app, Global by US Mobile, aimed at eliminating high roaming fees for international travelers. This app offers access to low-cost, high-speed data plans across multiple countries and is available on both the Apple App Store and the Google Play Store. The annual plans start at $60 per year ($5 per month) and provide significant cost savings compared to traditional roaming fees.
Global by US Mobile initially launches with four plans:
Global ($60/year) – Provides 13 GB of data in 73 different countries for 365 days.
USA & Canada ($60/year) – Provides 35 GB of data in the USA and Canada (and also works in the United Kingdom, Australia, New Zealand, and Hong Kong) for 365 days.
Asia Pacific ($60/year) – Provides 17 GB of data in 20 different countries across Asia and the Pacific for 365 days.
Europe ($20/month) – Provides 10 GB of data in 35 different countries across Europe for 30 days.
The service works with any eSIM-compatible device and offers unthrottled 4G data (and 5G where available) on local networks in 70+ countries. The plans are data-only but enable access to social media apps like Facebook and WhatsApp. Global by US Mobile also provides 24/7 customer support to resolve any connectivity issues.
This initiative aims to make international data access more convenient and affordable, enabling users to save on the substantial roaming fees that are typically charged by other carriers. For example, where a two-week trip could cost $140 in data with carriers like AT&T or Verizon, the same would only cost $60 for an entire year with Global by US Mobile. This represents a significant savings, especially for frequent travelers.
Summary
Nice to see more eSIM plans for European / UK travelers in 2023 and eSIM Planet will defiantly be trying this plan on an upcoming jaunt to DE, UK and Norway. Jury is out on reliability and customer service but we'll report back in August 2023! I run a test phone with a US Mobile plan in stalled – $5pm, and my interactions with the company has been positive thus far.